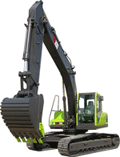 New Series 8 Excavators Have Just Arrived!

Today is the beginning of a new era in heavy equipment with East Coast Machinery bringing you the best quality products at the best possible price. The Series 8 line has consistently been a top performer, and we're ready to take your business to the next level.


Read more


East Coast Machinery is proud to offer your the customer an alternative in heavy construction equipment produced by XCMG, INTENSUS, and XCG. We are a newly formed dealer located in Lancaster County, Pennyslvania. Our management staff has over 15 years experience in the construction and excavation industry. With this knowledge of the industry we know what is important to you in a machine and its capabilitites to accomplish your work for a specific need productively and with the least amount of downtime. We hope that you take the confidence in us to supply your next machine.

These machines are produced by the 9th largest company in China using state of the art technology and brand name engines, pumps, hoses and other major components common to the USA market such as: Cummings, Isuzu, Sauer, Rexroth, Parker, Permco, DANA, Kawasaki, Kayaba, ZF and many others.

With this unique setup of common parts, components and competitive pricing, you can now save money on the purchase of the machine and continue saving money throughout the life of the machine on repairs and parts that are readily available almost anywhere you need them.

Our pledge as a dealer is to provide you with over all lower cost machines meeting your specific needs and keep you running with service and parts.